Bulk CBD Isolate
Bulk CBD Isolate is a go-to option for manufacturers seeking the purest form of CBD to use as an ingredient in edibles, topicals, and more. Our CBD isolate contains over 99% pure CBD, offering quality, purity, and effectiveness at a value. It's an ideal choice for those seeking a CBD product ingredient with no other cannabinoids or plant compounds. Discover the value and quality of our bulk and wholesale options, request a quote today.
Premium CBD Isolate Wholesale Supplier & Distributor
At Bulk CBD Distributors, we work to deliver multiple options of CBD isolate, consistently exceeding the industry standard for purity and quality. Our CBD isolate options are derived from either non or organically grown hemp, subjected to rigorous processes that remove all other plant compounds and cannabinoids, including THC. The result is a crystalline powder that contains over 99% pure CBD, ready to be used in a variety of applications ranging from edibles such as gummies and chocolates and topicals like balms and lotions, to tinctures and cosmetics. Use our commitment to quality and value as a resource for your product sourcing, check out our different tiers of options below.
Request Pricing for CBD Isolate
"*" indicates required fields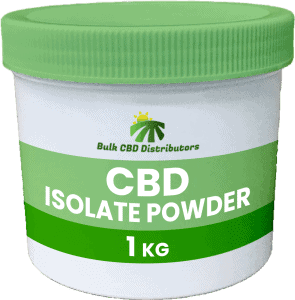 Creating bulk CBD isolate is an intricate process, starting with high-quality hemp plants. Firstly, CBD is extracted using supercritical CO2 or ethanol extraction methods to obtain a raw extract. This extract is then refined through a process known as winterization, which removes any unwanted plant materials, lipids, and waxes. Afterward, the extract is decarboxylated to activate the CBD. The penultimate stage is distillation, further refining the extract. Finally, the extract undergoes a purification process called crystallization, where it is heated and cooled repeatedly to form crystals. These crystals are then ground into a fine powder, resulting in over 99% pure CBD isolate. This meticulous process ensures the unrivaled purity and quality of our bulk CBD isolate.
Contact Bulk CBD Distributors For Information Or To Order Bulk CBD Isolate
Reach out today to learn more about our bulk CBD isolate or to put in your first order for our exceptional product.
High Quality Pure Bulk CBD Isolate Is One Of Our Most Popular Bulk Products
Our CBD extract process is high quality, as is our bulk CBD isolate wholesale product. Premium CBD extracts and concentrates in wholesale and bulk quantities are our specialty. We will provide COA's upon request for any of our products, including our CBD isolate wholesale products. We sell only to manufacturers, labs, suppliers, and distributors. We are wholesale and bulk sales only.
Ethanol Extraction
We use a refined ethanol extraction process to produce our full spectrum CBD crude and all of our related products such as our bulk CBD isolate.
Molecular Distillation
We use top of the line molecular distillation processes and equipment to produce our bulk CBD distillate which then gets turned into our wholesale CBD Isolate.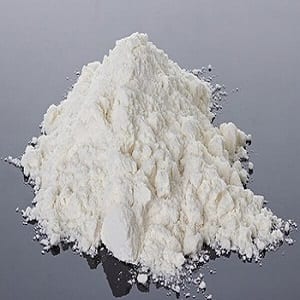 We filled out the form for a request, and the process was simple. Our first order was on point and the extracts were exceptional. A few orders later, Bulk CBD Distributors is our supplier for distillates and isolates.
I started with a small order from a few suppliers to determine what would be best to use in the development of our products. Bulk CBD Distributors definitely stood out among the rest with their quality of product and service.
Customer service was great, ordering was as easy as it can be in this industry. We're happy with the product and the supplier, looking forward to doing more business with them.
Buy CBD Isolate Wholesale
Ready to elevate your product line with the utmost purity of our CBD isolate? Fill out the form now to start the conversation. Let's talk about how our top-notch CBD isolate can make a difference in your products. Act now and let us empower your business with superior quality CBD!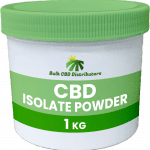 Request Pricing for Wholesale CBD Isolate
CBD Isolate Frequently Asked Questions
Essential Questions About CBD Isolate Answered
CBD isolate is the purest form of CBD, typically extracted from hemp and processed to remove all other compounds, resulting in a product that is 99%+ pure CBD.
CBD isolate is produced through an extraction process that removes all other compounds from the hemp plant, followed by a purification process that separates CBD from other cannabinoids.
What's the difference between CBD isolate and Full Spectrum CBD?
Full Spectrum CBD contains all the cannabinoids found in the hemp plant, including THC, while CBD isolate contains only CBD.
Does CBD Isolate have THC?
No, CBD isolate does not contain THC. It is a pure form of CBD.
What are the benefits of CBD isolate?
CBD isolate provides all the potential therapeutic benefits of CBD, such as pain relief, anxiety reduction, and improved sleep, without the risk of ingesting other cannabinoids.
How do I use CBD Isolate?
CBD isolate can be ingested directly, added to food or drink, or used to make your own CBD-infused products.
Yes, CBD isolate is legal at the federal level in the U.S., as long as it is derived from hemp and not marijuana.
Does CBD isolate have any side effects?
CBD isolate is generally well-tolerated, but some people may experience side effects like dry mouth, fatigue, or reduced appetite.
How can I ensure the quality of CBD isolate?
Look for CBD isolate from a reputable company that provides third-party lab test results to verify the purity and potency of their products.
Where can I buy CBD isolate?
CBD isolate can be purchased from various online CBD retailers, health food stores, and even some pharmacies. It's essential to research the company and product before buying.
Ready to experience the unrivaled purity of our CBD isolate? Don't hesitate, elevate your products to the next level with our superior CBD isolate. Contact us today and let our team help you make the best choice for your business.